Cinema

New Sci-FI, Fantasy, Horror and Adventure movies for free online.

Among the many cinematographic proposals available to the public today, including cinema on the big screen, films on streaming platforms and internet, the new collection of over twenty science fiction, horror, adventure and fantasy films, with 3D special effects, which has already exceeded 40 million views online, obtaining reviews from the international press and selection in numerous festivals, is now available online for free.

Those who are passionate about science fiction, horror, fantasy and adventure movies, can enjoy these films, by director Andrea Ricca, with a maximum duration ranging from 5 to 10 minutes, on any device, from tablet to mobile, suitable for quick use on the web.

Filled with emotion and action, these films tell stories of fantastic events that upset the tranquility of ordinary people forced to fight for their lives. These films tell of alien invasions, fantastic monsters and paranormal events. Featuring live actors interacting with computer-generated creatures, these films are inspired by both classic and modern science fiction.


The films are all complete stories, with a beginning, a middle and an end, using the traditional cinematic narrative structure.


The films have exceeded 40 million views online and have received reviews from the international press, ending up on the Amazon Prime Video platform and on the historic RADIOTIMES magazine and more: (Starburst Magazine, Rue Morgue Magazine, Radio Times, Horror News, Scream Horror Magazine, Dread Central, Gruesome Magazine, Film Threat, Horror Movies Ca, Gorezone, Horror Society, Bloody Disgusting, Horror Fuel, Horror Fix, Cinema Go, Film News UK, Famous Monsters of Filmland, Fangoria, Sfx Magazine, L'Écran Fantastique and many more...)


https://www.film-news.co.uk/news/Underground/91086/

https://www.theboldmom.com/andrea-ricca-new-collection-of-horror-scifi-movies/


Here are some Film Festivals they attended: Fantafestival, Miami Film Festival, Vienna Film Festival, Los Angeles Cine Fest, Texas Terror Film Festival, International Fantastic Film Festival, Cleveland Comic Con, Linea D'Ombra Film Festival, Horror Con Uk (in the jury Dario Argento) etc.

Cinema is no longer just what you watch in the living room or on the big screen. Today there is a new genre of film designed specifically for those on the street, on the subway, in the park, etc. Short and free stories to watch on any device, from tablet to mobile, suitable for quick use on the web.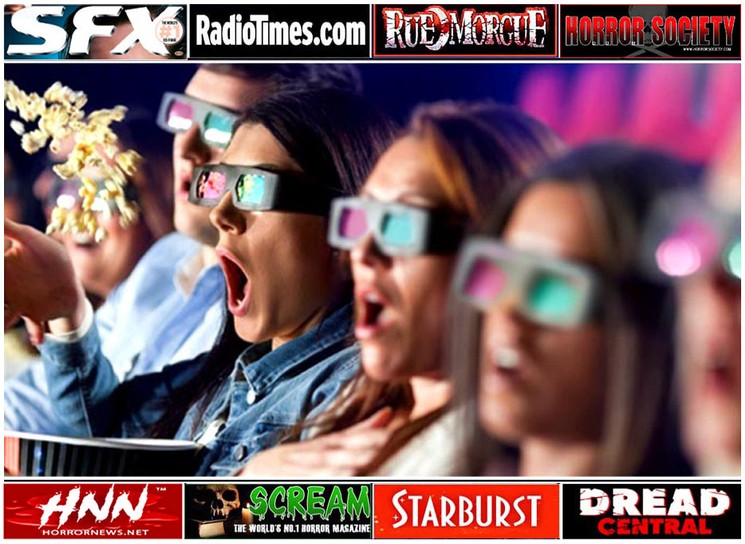 "There is an energy and an exuberance in the films that it is impossible not to be involved in".
STARBURST MAGAZINE

"Full of excitement and action, you can really enjoy these movies."
RUE MORGUE MAGAZINE

"The films are very impressive and feature impressive CGI monsters."
SCREAM HORROR MAGAZINE

"If you love these films as much as we do, support the director Andrea Ricca"
HORROR MOVIES CA

"With millions of online views, dozens of films to his credit and a passion for cinema, Andrea Ricca, director of sci-fi and thriller films, has become a web star. His short films of great impact have conquered internet viewers and international magazines, giving young actors the opportunity to take their first steps in cinema. Ricca, who started in 1998, has seen large numbers arrive that are leading him to become known all over the world ".
THE MORNING

"Andrea Ricca and his science fiction aliens are a real phenomenon. "
SCIENCE FICTION COM

"Adventure and irony, and excellent computer graphics"
NOCTURNO CINEMA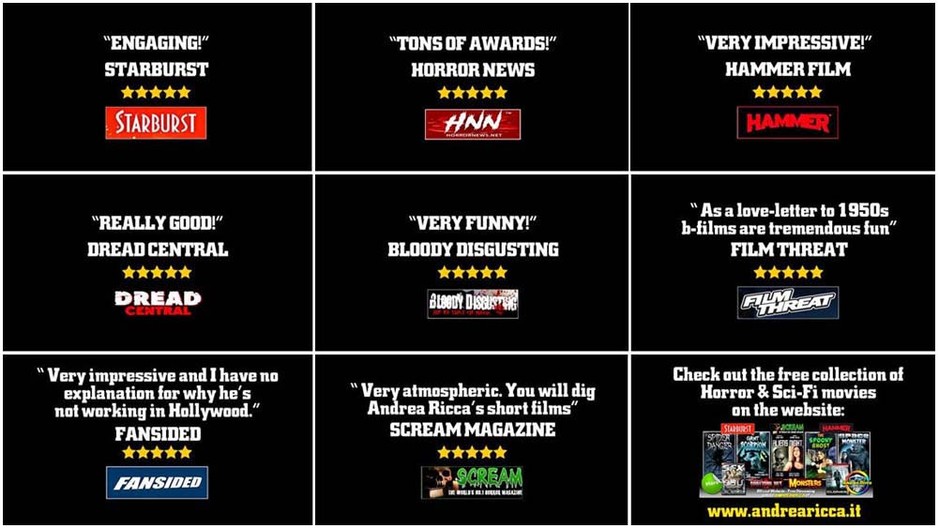 All films can be watched on the Official Website:

http://www.andrearicca.it


The films are now also visible for free on Amazon Prime Video (US and UK only)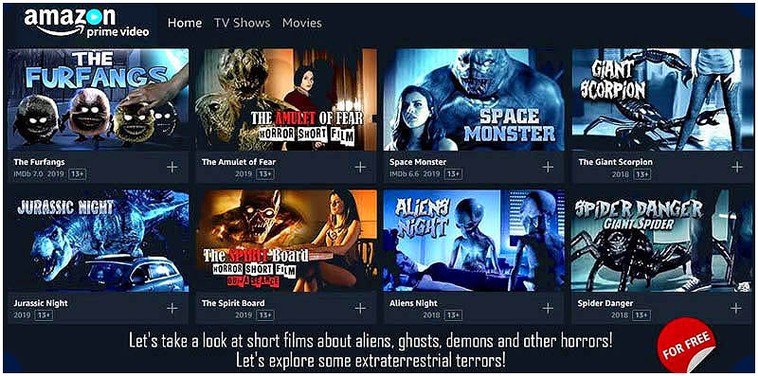 More infos

THE DIRECTOR

Andrea Ricca is a director with a strong do-it-yourself ethic, graduated in Sociology and specialized in 3D graphics, made his debut in 1998. He currently works as a 3D designer, editor and photographer. He has also collaborated on some films for the Giffoni Film Festival. In 2012 he published in all bookstores for Dino Audino Editore the book: "Low budget special effects - Manual of special effects for independent directors".


He has made around 20 short films since 1998, often focusing on stories of monstrous creatures that hark back to classic giant monsters or alien invasion films that many fans of horror and science fiction films cherish. He publishes his shorts of his, non-profit, for viewers to watch for free on his website and on YouTube, where he has found considerable success. Andrea Ricca's shorts usually have no dialogue, they rely on action to tell their stories. All the videos were made by a single person, the director himself (apart from the actors) who took care of direction, subject, script, special effects, post-production, editing and sound. Graduated in Sociology and expert in video communications, Andrea Ricca started producing short films in 1998, initially with a social theme, and following his specialization in 3D computer graphics, in 2008, he produced genre stories that immediately found strong feedback from the public. All videos are shot for passion, low budget, without external contributions or remuneration to the participants, with the only help of a high definition camera and a computer.

THE CURIOSITY

Ricca's short films have been cited in two graduate theses on science fiction cinema: "Science fiction cinema" with professor Roy Menarini as speaker and "Cinema designed for the web" with professor Gian Battista Canova as speaker.





"Since independent cinema met with the phenomenon of web diffusion, hundreds of works published legally online by the directors themselves have proliferated: feature films, shorts, web-series, fan-films, which have now become a phenomenon of custom that deserves a separate treatment. Between purely amateur products and high quality works, it happens to meet singular middle ways which - even with all the limitations of the case - arouse curiosity among enthusiasts and professionals. This is the case of the filmmaker Andrea Ricca, who specializes in no-budget science fiction short films that have aroused the interest of specialized magazines such as L 'Ecran Fantastique, Dreadcentral and Ciak Magazine, and have been presented at various festivals. Pure independent, Ricca has been involved in these productions since 1998, that is, since he specialized in three-dimensional graphics. Seeing his shorts of him, he immediately catches the eye that the highlight is the very realistic and "plastic" CGI with which he models the monstrous creatures, including aliens, giant spiders and various monsters. Andrea Ricca is a 360-degree filmmaker, dealing with all stages of the production of shorts, from direction to graphics to post-production.

Andrea Ricca's stories are always essential and minimalist - a protagonist at the mercy of sci-fi and horror creatures - without dialogue and of reduced duration (on average, five minutes each): the direction is certainly not perfect, but in the end the the intention of the director (quite successful) is to create a divertissement, a genuine and ironic tribute to those sci-fi "B-movies" that were so fashionable in the past and which still today are a cult object for cinephiles. Seeing his short films, available on the andrearicca.it site and on YouTube, it seems to retrace some of the most significant stages of fantastic cinema through no-budget reconstructions sometimes leading to comedy or parody. For example, the inspiration of Spider Danger from the cult Tarantula by Jack Arnold is declared, and we are also on the same side with The Giant Scorpion, where the protagonists are respectively spiders and giant scorpions (to be clear, that imaginative universe for which Joe Dante performed the magnificent act of love Matinée). With The Furfangs we immerse ourselves in the eighties atmospheres of the various Gremlins, Ghoulies and Critters, with these furry monsters - strictly in CGI, therefore with a strange contrasting effect compared to the eighites craftsmanship.

There is no shortage of shorts that explicitly mention The Thing (Space Monster) and Tremors (Alien Worms). Alien Night and its sequel showcase classic greenish and misshapen extraterrestrials, and in recent times the director has even directed a tribute / parody to the monster-movies of the infamous Asylum. The intention not to take himself seriously, which is one of the strong points of his production, is evident for example in Alien Night 2, in which the protagonist seems to challenge the aliens and then make the gesture of the umbrella and escape - a clear tribute to the scene of Bud Spencer against the hit men in the action-comedy "Go for it". Between ghost-movies, Indiana Jones-style adventure shorts and various horror films, the short Nightmare Escape is particularly interesting, an interactive cinema experiment where the viewer decides how to make the story proceed through the commands of the PC: a product significant also in the light of the new frontiers in which cinema meets virtual reality and the interaction of the spectator, a space still in progress of which the work of Andrea Ricca is one of the very rare Italian examples."

Davide Comotti – NOCTURNO CINEMA




THE MOVIES

One of the most popular films is entitled: "ALIENS NIGHT" and tells of an alien spaceship that arrives on earth near the house where a young biologist lives. Small gray aliens descend from the spaceship and enter her house, a real alien invasion! These classic big-headed aliens want to kidnap her but the girl, after an initial moment of fear, decides to fight back and fight for her life. What will happen? There is certainly some touch of humor but above all an unexpected surprise at the end! Semi-Finalist Los Angeles CineFest (Duration: 7 minutes.)

The second most viewed film by the public is titled: "SPIDER DANGER". Due to the fall of a meteorite, a small spider kept in a glass case by a collector becomes a giant and begins to hunt down its master. The house is full of cobwebs and spider eggs that will hatch, resulting in an invasion of arachnids! (Duration: 5 minutes.)

For those who love the paranormal, on the other hand, we find: "THE AMULET OF FEAR", a tribute to horror in the style of Stephen King. In an old house a young girl finds an ancient amulet that has the magical property of making real the fears of its owner and when the girl begins to read a horror book by Stephen King entitled: "The creature" the latter comes to life and begins to hunt him. The danger is imminent and not even the gunshots can stop the monstrous creature (completely made on the computer in 3D graphics) for this reason the protagonist will have to use all her wits to win her nemesis. Between thrills and action. (Duration: 5 minutes.)

The most critically acclaimed film, on the other hand, is titled: "THE GIANT SCORPION". "The Giant Scorpion" has collected over 2 million viewers online, selected by many Film Festivals and receiving international reviews. "There is an energy and exuberance to the film that it is impossible not to be engaged by." Starburst Magazine.
"What is better than a beautiful girl that sweetly sleeps under an '80s issue of "Fangoria" magazine and fights monsters with a sharp blade?" Horror News. (Duration: 4 minutes.)





To know more

Official Website:
http://www.andrearicca.it/

Press Release:
http://www.andrearicca.it/press-release.html

Press Reviews:
http://www.andrearicca.it/press-reviews.html

Useful images:
http://www.andrearicca.it/images.html

Downloadable Images:
http://www.andrearicca.it/images.rar

Watch the Trailer:
https://youtu.be/rPa-dvFn4P4