PRESS RELEASE
PRESS RELEASE
After million views online, and being distributed on Amazon Prime Video, we are excited to say that the reviews and ratings of our science fiction films have been positive from international magazines praising their creativity and originality.
If you are a fan of science fiction, adventure, fantasy and horror films
here you will find a collection of free streaming movies that has already gained 50 million viewers online with international reviews and attendance at many film festivals around the world and was a hit in the United States on Amazon Prime Video.
Now it's available for free!
They talk about it: STARBURST, RADIOTIMES, DREAD CENTRAL,
SCREAM HORROR MAGAZINE, SFX UK, RUE MORGUE, FILM THREAT, HORROR NEWS,
FANSIDED, HORROR FUEL, FILM NEWS UK, GOREZONE, HORROR SOCIETY, HORROR FIX, BLOODY DISGUSTING and many others.
Read the Reviews from all over the world.
Don't miss the chance to immerse yourself in a suggestive world made of alien invasions, monstrous creatures,
supernatural events and heroes fighting for their lives!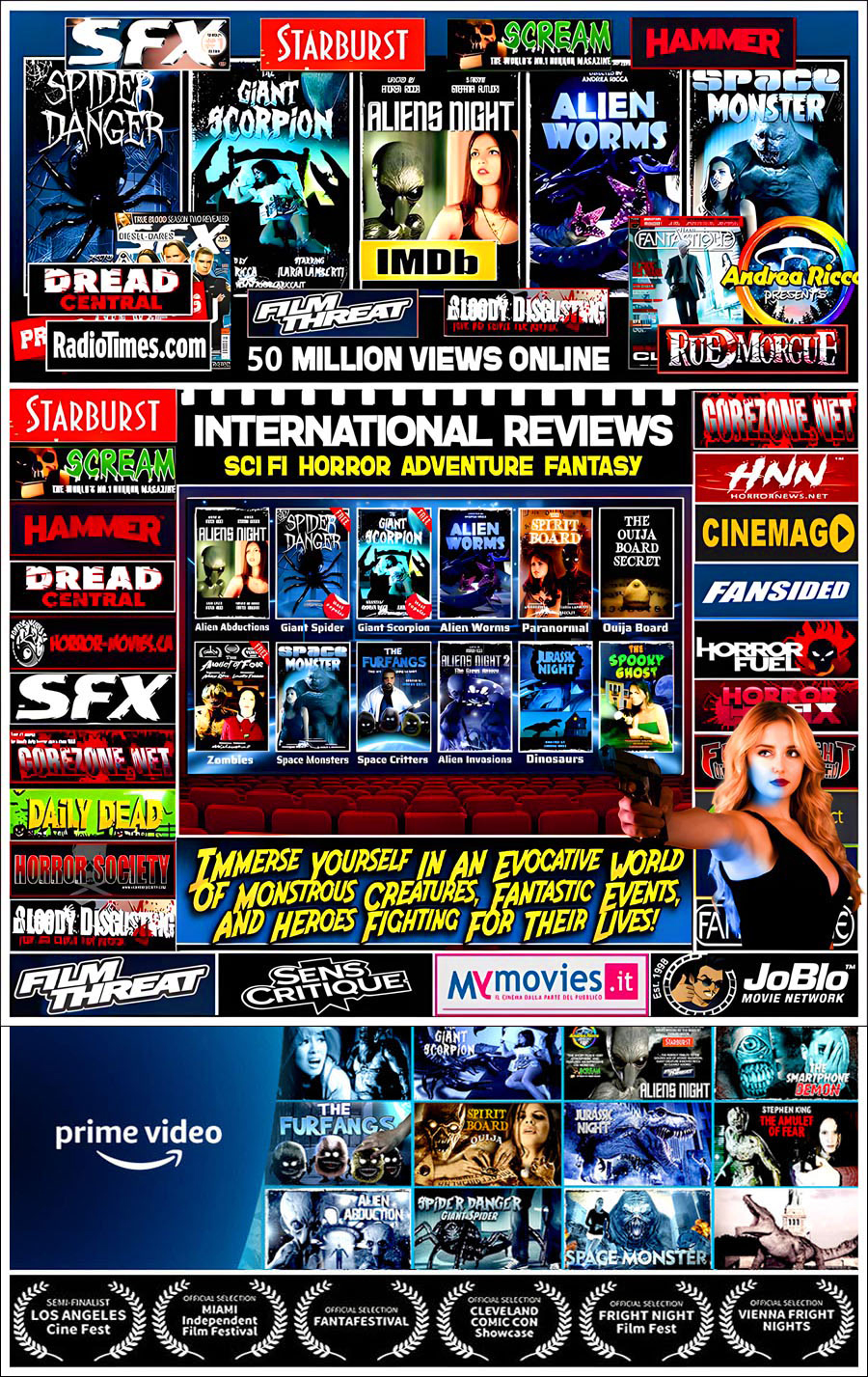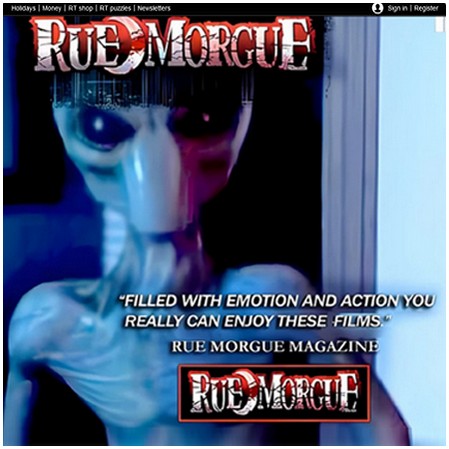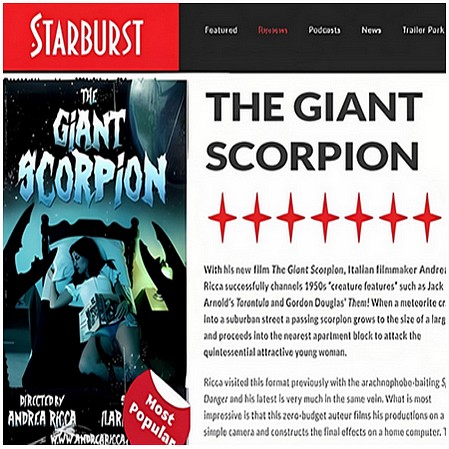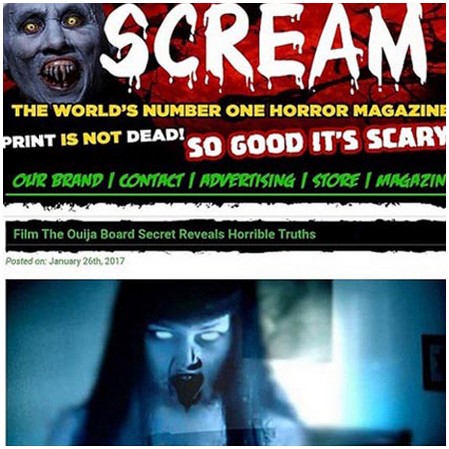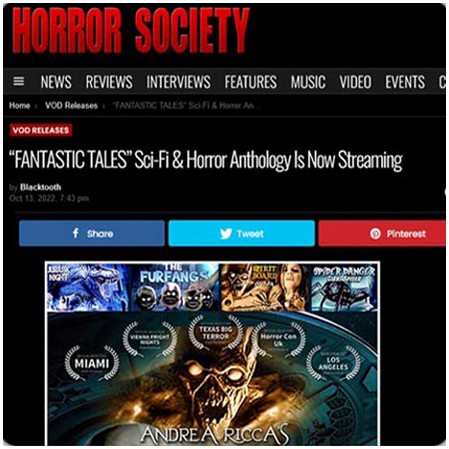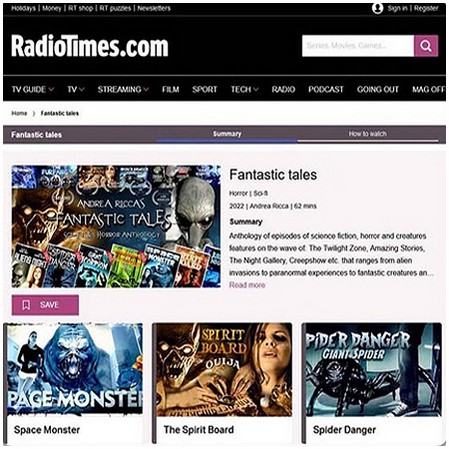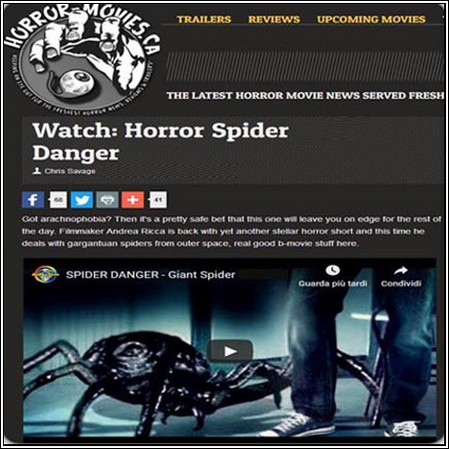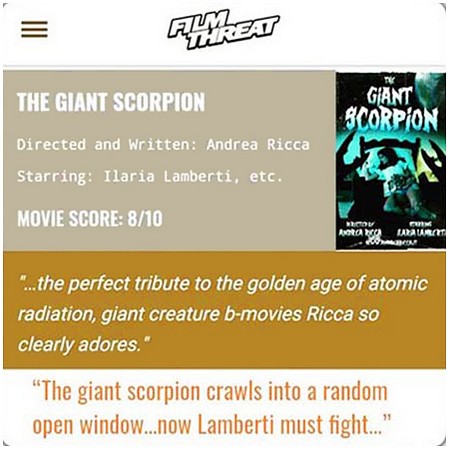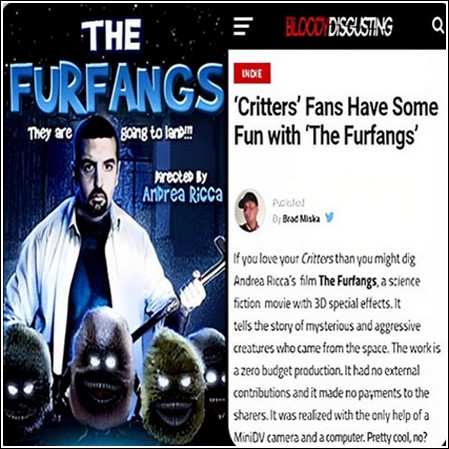 CINEMA PRESS RELEASE
EXCITEMENT, THRILLS AND CREATIVITY IN NEW FILMS, WITH INTERNATIONAL REVIEWS, FREE STREAMING.
ABOUT IT: STARBURST MAGAZINE, RADIO TIMES, SCREAM HORROR MAGAZINE AND MANY OTHERS!
"There is an energy and exuberance in these films that is impossible not to get involved with."
STARBURST MAGAZINE
"The computer effects are impressive."
HORROR NEWS
"All the work he does is really impressive and I can't explain why he's not working in Hollywood."
FANSIDED
50 million streaming viewers.
If you like Science Fiction, Adventure, Fantasy and Horror movies,
check out the new collection available on the website:
Among the many audiovisual offerings available to audiences today, including theatrical films, films on streaming platforms, and the Internet, our team is pleased to announce that a new collection of science fiction, adventure, horror, and fantasy films, which has gained international acclaim and, after gaining millions of online viewers around the world, receiving hundreds of positive reviews from important cinema publications, participating in prestigious Film Festivals and finally being distributed exclusively in the US and UK on the Amazon Prime Video platform, arrives today in streaming, as a new free online cinema resource for fans.
We are pleased to share with you the attention our films have attracted in the press. Numerous magazines such as Starburst Magazine, Rue Morgue Magazine, Scream Horror Magazine and many others. have talked about them with great enthusiasm, emphasizing their positive impact and success with audiences.

These were joined by praise from the historic production company "Hammer Film" and compliments from special effects legend Tom Savini and director Wes Craven.

Here are some of the international film festivals where they were selected in competition: Fantafestival, Miami Film Festival, Vienna Film Festival, Los Angeles Cine Fest, Texas Terror Film Festival, International Fantastic Film Festival, Cleveland Comic Con, Linea D'Ombra Film Festival, Horror Con Uk etc.
We are also particularly proud that these works have been cited in two graduate theses on cinema: "The Science Fiction Cinema" with supervisor Professor Roy Menarini and "Cinema Designed for the Web" with supervisor Professor Gian Battista Canova, demonstrating their artistic and cultural value. (http://www.andrearicca.it/tesi-di-laurea.html)
The films, made by film director and producer Andrea Ricca and his team, often starring strong, independent women, feature live-action filmed actors interacting with computer-generated creatures. Each film is a combination of excitement, action and creativity, with 3D CG special effects.

The stories present themes such as the struggle between good and evil, the concrete and the fantastic, reality and dreams.

These films rely on action and emotion to tell stories of fantastic events that disrupt the tranquility of ordinary people forced to fight for their lives. The stories tell of alien invasions, fantastic creatures, paranormal events, etc.
Among the most popular films with audiences are "Spider Danger," about a spider turned giant after a meteorite falls, with more than 8 million views, and "Aliens Night" on the theme of alien abductions, with 9 million views.
"The result is nothing short of mind-blowing, bringing wonder, adventure and excitement. His numbers on the web turn heads and his talent has not gone unnoticed even by some of the most prominent international publications." BEYOND CINEMA
All movies can be watched on the Official Website:
Here are some media outlets that have covered it.

Starburst Magazine, Rue Morgue Magazine, RadioTimes, Scream Horror Magazine, Dread Central, Fansided, Gorezone, Horror Society, Horror Fix, Bloody Disgusting, Film Threat, Horror Fuel, Cinema Go, Film News UK, Horror News, Gruesome Magazine, Film Carnage, Daily Dead, Horror Cult Films, Trip Wire, Horror Experts, Joblo Movie Network, Trailer Addict, Promote Horror, BZ Film, Realm of Horror, Independent Critic, Indie Horror, Red Mango, Tech Game World, Live for Film, We Are Indie Horror, Letter Box, Vocal Media, World Film Geek, Addicted to Horror Movie, Scare Tissue, My Favorite Horror, Love Horror, This Sent, Reprobate, Geek Twins, Zombies in my Blog, Entonation, Slice of Sci-Fi, World Film Geek, Ecran Fantastique (France), Sfx Magazine (United Kingdom), Blood Guts (United Kingdom), De Nacht Vlinders (Holland), RGRU (Russia), Prime Cool (Germany), CDM (Spain), Accion Cine (Spain), FantCast (Spain), Mansion del Terror (Spain), Paper Blog (Spain), Nido de Cuervos (Spain), Video Clip (Bulgaria), SensCritique (France), Club Des Monstres (France), Fino Filipino (Philippines), CineRamen (Germany), Spinnenspielfilme (Germany), SFD (Slovakia), Madonasi (Japan), Trupi Jad (Poland), Sogou (China), Zhihu (China), Xbeibeix (China), Amazon Prime Jp (Japan), FilmOw (Brazil), CafèComNerd (Brazil)
Read the Press Review here.
"With millions of views under his belt and the acclaim international specialized press, we discover the evocative sci-fi and horror world of Andrea Ricca. The director is a phenomenon who has managed, with millions of accumulated views and a huge passion for fantasy-style cinema and special effects, to create his own space by managing to bring his works to be available on a platform of the caliber of Amazon Prime Video. CINEBLOG (BLOGO) -
(
https://bit.ly/3K3mm0q
)
"More than twenty genre cinema films are available on the site of Andrea Ricca, the celebrated filmmaker specializing in digital effects. There is no greater satisfaction than being able to find new films ready to watch, just a click away. The catalog brings together science fiction, adventure, horror, and fantasy films, where live action casting and filming are married with 3-D CG special effects to create fun, exciting, and certainly creative stories. A talent that is perhaps unmatched on the Italian scene, both in terms of breadth of production and product quality. A winning bet, Ricca's, which has garnered more than 50 million total views, also being distributed on Amazon Prime Video (US and UK), as well as being selected in international cineamtographic festival competitions such as Fantafestival, Miami Film Festival and Texas Terror Film Festival." - SCREENWORLD (https://screenworld.it/cinema/news/i-film-di-andrea-ricca-emozioni-brividi-e-creativita-nel-cinema-di-genere-in-streaming/)
"Seeing his films, it seems as if we are retracing some of the most significant phases of fantasy cinema through reconstructions that sometimes veer into comedy or parody. For example, Spider Danger's inspiration from Jack Arnold's cult Tarantula is stated, and we are in the same vicinity with The Giant Scorpion, where the protagonists are spiders and giant scorpions, respectively (to be clear, that fantasy universe for which Joe Dante performed the magnificent act of love Matinée). With The Furfangs we plunge into the 1980s atmospheres of the various Gremlins, Ghoulies and Critter, with these furry monsters now strictly in CGI. There is no shortage of films that explicitly mention The Thing (Space Monster) and Tremors (Alien Worms). Alien Night and its sequel show classic greenish, deformed extraterrestrials, and in recent times the director has even directed a tribute/parody to the infamous Asylum monster movies." NOCTURNO CINEMA (https://www.altrimondi.org/andrea-ricca-experience/)
"The films, selected by numerous festivals, have met with great success among audiences and critics. Italian director Andrea Ricca's films are gaining strong international response, receiving praise from major publications such as Starburst, RadioTimes, Scream Horror Magazine, Dread Central! With rave reviews and big numbers on the web, the films range from science fiction to adventure, fantasy to horror, with 3D CG special effects! After winning over 50 million viewers online,they have been exclusively distributed in the US and UK on Amazon Prime Video. In addition, numerous symbolic messages are contained within these films, such as the struggle between good and evil, the concrete and the fantastic, reality and dreams. The stories are about heroes at the mercy of monsters, sci-fi and horror creatures. The most surprising aspect? For the realization of his works Andrea Ricca used a small budget! All his works are, in fact, completely self-produced, made without external contributions, but only through the director's talent and passion. A big achievement for independent film art, proving that passion, creativity and technical skill can overcome financial limitations. thanks to the author's website, the public can now view these works from the comfort of home and explore the film collection for free by immersing themselves in an evocative world of monstrous creatures, fantastic events, and heroes fighting for their lives. " THE SOUNDCHECK (https://thesoundcheck.it/2023/07/03/tutti-i-film-di-andrea-ricca-disponibili-gratuitamente-in-streaming/)
Andrea Ricca's is a story that arouses curiosity because of the great difference between the success achieved and the very low budget with which the films were produced. In fact, all the works are completely self-produced at zero cost, with no outside contributions or pay to actors, no crew, but only with the help of a FullHD video camera and a computer.
The writing, filming, editing, 3D animation and post-production are all the work of the director who is based on a strong do-it-yourself ethic, a Sociology graduate, specializing in 3D computer graphics and in business since 1998. He currently works as a 3D designer, editor and photographer. He has also collaborated on some films for the Giffoni Film Festival and has published the book: "Special Effects for Independent Filmmakers" available in all bookstores (https://www.lafeltrinelli.it/effetti-speciali-low-budget-prontuario-libro-andrea-ricca/e/9788875272425).
He publishes his videos for viewers to watch for free on his website, these are works made with a lot of passion and commitment and without economic means, which have the only purpose of entertaining and exciting web viewers.
At these links further insights: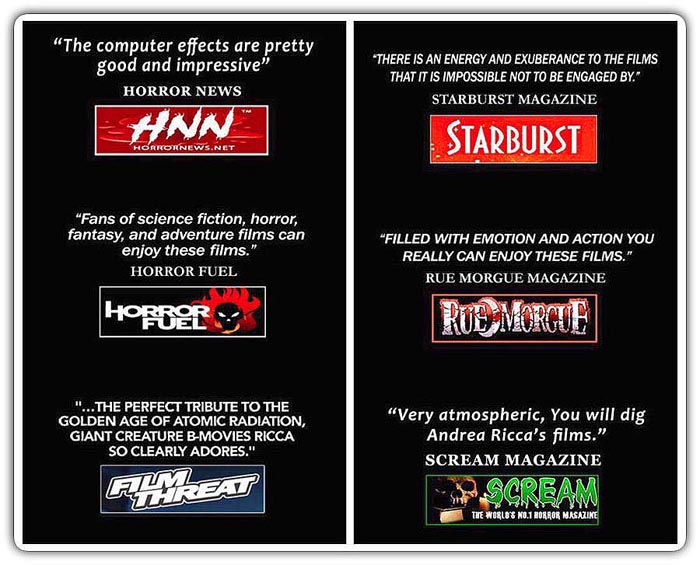 PRESS QUOTES
"There's an energy and exuberance in these films that it's impossible not to get caught up in." STARBURST MAGAZINE
FILMS
Below is a description and direct link to the individual works, among those that received the most feedback.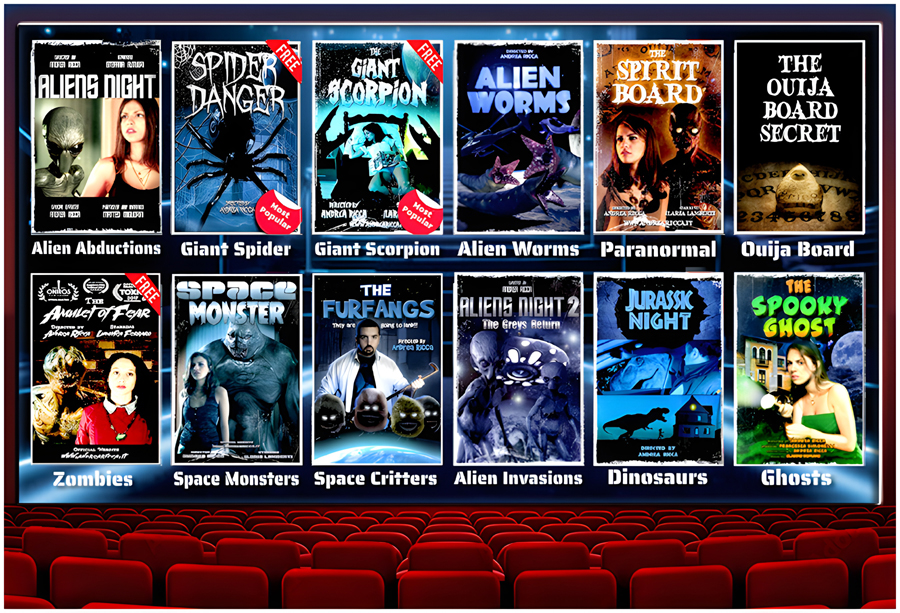 One of the most popular movies is titled: "
ALIENS NIGHT
" and is about an alien spaceship that arrives on earth near the house where a young biologist lives. Small gray extraterrestrials descend from the spaceship and enter the dwelling, a real alien invasion! These classic big-headed aliens want to abduct her, but the protagonist, after an initial moment of terror, decides to fight back and fight for her life. What will happen? There is definitely a dash of humor but most importantly an unexpected surprise at the end! Los Angeles CineFest finalist. (Direct link:
http://www.andrearicca.it/aliens-night.html)
The second most viewed film by audiences is titled: "
SPIDER DANGER
" Due to the fall of a meteorite, a small spider, kept in a glass case by a collector, becomes giant and starts hunting its owner. The house is filled with spider webs and eggs that will hatch, causing an arachnid invasion! (Direct link:
http://www.andrearicca.it/spider-danger.html)
For those who love the paranormal, however, we find: "
THE AMULET OF FEAR
" a Stephen King-style homage to horror. In an old house a girl finds an ancient amulet that has the magical property of making the fears of its possessor real, and when the protagonist begins to read a Stephen King book entitled: "The Creature" the latter comes to life and begins to hunt her down. Danger is imminent and not even gunshots will be able to stop the monstrous creature (fully computer-generated in 3D graphics) so the protagonist will have to use all her wits to overcome her nemesis. Between thrills and action.
http://www.andrearicca.it/the-amulet-of-fear.html)
The most critically acclaimed film is titled: "
THE GIANT SCORPION
" which has garnered more than 2 million viewers online, being selected by many Film Festivals and receiving international reviews. "There is an energy and exuberance in the film that is impossible not to be drawn in by." Starburst Magazine. "What could be better than a beautiful girl sleeping sweetly under a 1980s issue of "Fangoria" magazine and fighting monsters with a sharp blade?" Horror News.
http://www.andrearicca.it/the-giant-scorpion.html)
"
FANTASTIC TALES
" is a full-length episodic science fiction, horror and adventure film that spans various genres and places of the imagination, from alien invasions to paranormal experiences to giant creatures and many other stories of varying lengths, in the wake of classics such as: Twilight Zone and Amazing Stories. Rich in digital effects, the episodes are based on a mix of thrills, action and terror that takes the viewer from one fantastic adventure to the next. The script is by the director himself, as is the production for Andrea Ricca Presents srl. The director also handled the digital effects together with Matteo Migliorini, Gennaro Acanfora. Finally, the music is by Antonio De Luise and Gianfilippo De Mattia.
http://www.andrearicca.it/fantastic-tales.html)