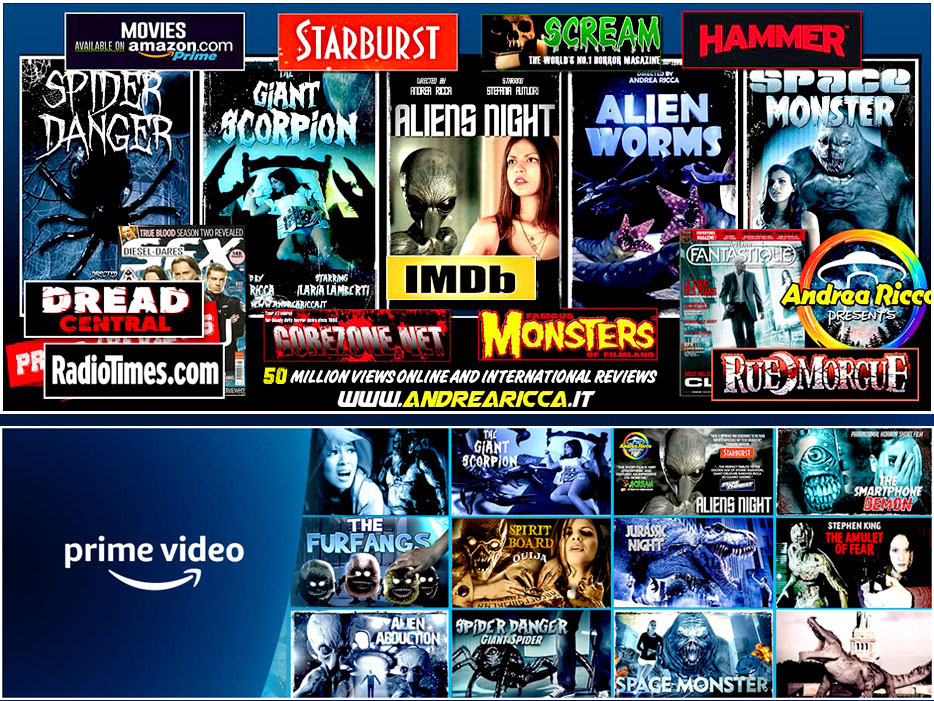 New films with international success now available online.
A new free cinema resource for fans.
We are talking about the science fiction, adventure, fantasy and horror films that are receiving praise for their creativity and originality from many of the most prestigious film publications, especially in the United States, and in competition at film festivals around the world.
This is a collection of more than twenty films by director Andrea Ricca, a Sociology graduate and graphic designer by profession, in business since 1998.
Full of pace, action, thrills and 3D CG special effects, these films tell science fiction and horror stories inspired by 1950s and 1980s cinema: alien invasions, creatures from outer space, spaceships, paranormal phenomena, zombies, etc. With real actors interacting and acting with computer-made and animated characters.
Some of the most popular films with audiences include "Spider Danger," about a spider turned giant after a meteorite falls, with over 8 million views, and "Aliens Night" on the theme of alien abductions, with 9 million views.
It is an example of the new modes of communication and expression enabled by new technologies such as the Internet and the increasingly affordable prices of filming equipment, which can inspire young people to take up filmmaking.
Those who are fans of science fiction, horror, fantasy, and adventure films can enjoy these films on any device, from tablets to cell phones, suitable for quick web-based enjoyment.
Show business personalities also had words of appreciation, such as director Wes Craven: "Andrea Ricca's films are to be commended."
Below are synopses of these little web blockbusters with millions of views to their credit, also mentioned in 2 dissertations on science fiction cinema: Il Cinema Italiano di Fantascienza (Supervisor Prof. Roy Menarini) and Il cinema progettato per il Web (Supervisor Prof. Gian Battista Canova).
ALIENS NIGHT. Extraterrestrials arrive on Earth aboard their spaceship and enter the home of a young biologist who will have to fight with all her might to survive a real alien invasion!
THE AMULET OF FEAR. A frightening zombie-like creature is conjured and made real from a Stephen King book.
SPIDER DANGER and THE GIANT SCORPION respectively a spider and a scorpion that become giants and attack the hapless protagonists.
On this page, you can read the complete press review with articles and reviews from international publications
(
Starburst Magazine,
Radio Times Magazine, Rue Morgue Magazine, Scream Horror Magazine, Dread Central, Fansided, Horror Movies Ca, Gorezone, Horror Society, Horror Fix, Bloody Disgusting, Sfx Magazine
...)
Here are some of the international film festivals where they were selected in competition:
Fantafestival, Miami Film Festival, Vienna Film Festival, Los Angeles Cine Fest, Texas Terror Film Festival, International Fantastic Film Festival, Cleveland Comic Con, Linea D'Ombra Film Festival, Horror Con Uk (in giuria Dario Argento) ecc.

Andrea Ricca is a filmmaker with a strong do-it-yourself ethic, with a degree in Sociology and specializing in 3D graphics, he made his debut in 1998. He currently works as a 3D designer, editor and photographer. He has also collaborated on several films for the Giffoni Film Festival.